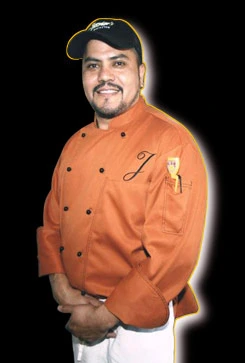 A New Twist on Old Tradition
Traditions and Techniques
Javier Ortega's roots are in Guanajuato, Mexico, but his cooking reflects much more than the flavors of one country. Having worked in French, Italian, Asian, and Mexican restaurants in the Midwest, Boston, and New York, Ortega has developed his own cuisine—featuring unique combinations of flavors, aromas, and textures.
Sure, You Can Find Traditional Items
Such as tacos, burritos, and flautas on Javier's menu, but there are also dishes such as blackened salmon, baked chicken pasta (sautéed chicken and mushrooms in creamy tomato sauce with large shell pasta, baked with cheese), and pollo y camaron en chipotle (broiled breast of chicken in a spicy cream sauce topped with shrimp and pico de gallo).
Those are just a few examples of Ortega's specialties and even if we listed the entire printed menu here, it would not cover what this chef offers. Always on the lookout for new adventures in the kitchen, he offers different specials and loves the challenge of creating something unusual for his customers.
Javier's Cuisine also has delicious vegetarian options and is a great place to treat your gluten-free palate as well. There is always a new special with Javier's gourmet touch. We also offer a comfortable atmosphere for drinks and dining.
STEAK AND PORTABELLA QUESADILLA
Chef Javier sautés steak, mushrooms, and onion to make this special tasty with rice and beans on the side.
GUISADO DE RES
Slow-cooked Mexican beef stew served with rice beans and tortillas.
STEAK ALA MEXI
Sautéed strips of sirloin, onions, peppers, tomatoes, and cilantro with rice beans and tortilla.
PORK EN CHILE VERDE
Chunks of pork in a spicy tomatillo sauce, along with sides of rice, beans, and tortillas.
CARNITAS
Braised pork cooked in its own juices served with pickled red onions, cilantro, limes, rice beans, and tortilla.
BISTEC MOLCAJETE
Sautéed beef strips, onions, peppers, tomato, cilantro, and melted cheese with your choice of tortilla.
EMPANADAS
Flour dough stuffed with chicken, onions jalapeño, and cheese, then fried; served with sour cream.
FAJITA FINGERS
Shredded beef with onions, peppers, and cheese rolled in flour tortillas and deep fried; served with Javier's dipping sauce.
"*" indicates required fields